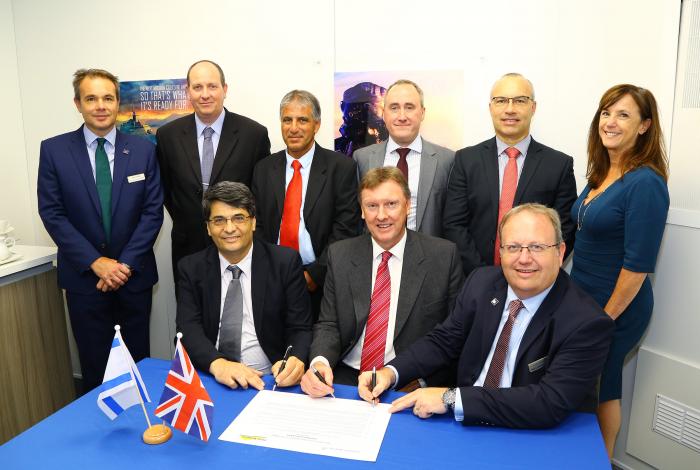 The signing ceremony (Photo courtesy of Elbit Systems)
Elbit Systems UK and Lockheed MartinUK have signed a strategic teaming agreement to partner on the Maritime Electronic Warfare Program (MEWP) for the Royal Navy. The partnership between the two companies was announced at DSEI 2017 held this week in London.
The MEWP is a significant procurement to upgrade the Royal Navy's Electronic Warfare capabilities. Delivered in increments, the upgraded system will be fielded on the Royal Navy's frigates, destroyers and amphibious assault ships, with the program expanding to the wider fleet including submarines in due course.
Martin Fausset of Elbit Systems UK Ltd said "We are delighted to be working with Lockheed Martin to offer an innovative and comprehensive proposal to meet the Royal Navy's future requirements, using our complementary skills and experience we believe we are a strong team able to propose a highly attractive solution to meet the program needs."
"By working together, both companies can use their extensive experience in maritime technology and systems integration to provide a highly capable, proven and value for money solution to address the immediate and evolving need for an upgraded Maritime Electronic Warfare capability for the UK'sRoyal Navy," Said Paul Livingston, vice president of Lockheed MartinUK Integrated Systems.
(c) 2017 All rights reserved, content and design by Arrowmedia Israel Ltd. Provided by SyndiGate Media Inc. (Syndigate.info)., source Middle East & North African Newspapers